The Multiversum – The new AniNite location
The Multiversum is a unique multi-functional event complex in Schwechat. Officially opened in January 2011, it offers an unparalleled, in every aspect, contemporary offer for organisers, partners, participants and spectators.
Address

Möhringgasse 2-4, 2320 Schwechat
Parking

Parking garage (Entrance via Industriestrasse) with 222 parking spaces. Costs: € 0,50 per 30 minutes.
Free parking spaces (short-term parking zone 90 minutes) 160 spaces, 70 are reserved for "Eurospar" customers.
How to get there with public transport from Vienna:

With the Schnellbahn S7 to Station Schwechat, which is still part of the zone 100. Tickets for Vienna (Wiener Linien) is enough to get there. Please refer to the diagram below for stations along the line.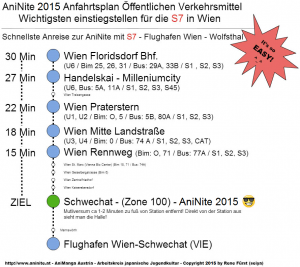 Google Maps Auto Route