Topic: Kitsune!
This years topic is spread wide to give your creativity a little bit of possiblities to play with! It does not matter if you want to draw your favorite Kitsune-character from any anime/manga/video game or if you want to create your own interpretation of the traditional japanese mythical creature – everything is possible and legit, as long as it is clearly recognizable as a kitsune.
Prizes
1st Place – quality metal case with 50 STABILO Pen 68 felt tip pens + Anime Goodiepack
2nd Place – quality metal case with 40 STABILO Pen 68 felt tip pens + Anime Goodiepack
3rd Place- quality metal case with 30 STABILO Pen 68 felt tip pens + Anime Goodiepack
sponsored by

But as we all know, kitsunes tend to chance their appearance, so we encourage you to keep it visible that it is/was a fox sometime ago. This means: only animal-like fox-characters, kemono-mimi (humans with animal ears and tail), anthro foxes and stuff like that are allowed. (Sadly drawing a portrait of your small sister and trying to explain us she is a bewitched fox princess won't work out for us.)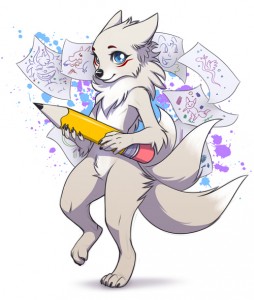 Submissions:
You can draw your artwork traditional style or digital style. Size allowance ranges from A3 to A5,so it does not matter if your picture is 20cm x 20cm or A4, this does not count for evaluation. Resolution must be at least 300 dpi.
You can send your picture to [email protected] or bring it to our booth at AniNite on Friday, 28th of August 2015 until 8pm, we will have a scanner available for traditional work, but we prefer you having your picture scanned in at home and brought to us with a USB-stick. Same goes for digital artworks but vice versa. We can print them out at AniNite, but having them printed out by yourself might result in a better printing quality (pictures sent to us 3 days before the deadline may be printed out in high quality by the AniNite staff).
Things we definitly need to know if you send us your work:
Your name/artist name
Age
contact (prefering mail)
medium (traditional or digital)
and if your work is fanart, from which source (anime/manga/videogame)
Artworks will be displayed at AniNite. We assume no liabilty for original content!!!
Prizes/Placement:
IMPORTANT! In order to win you have to be at AniNite on Sunday and be able to claim your prize!
Each category (traditional/digital) will have 3 placements (no categories for ages, etc.).
Mixed categories will be sorted into one category by the jury.(eg. pencil work with digital coloring would be 'digital' since most of the work was done at the computer). Your work will be evaluated for technique and creativity.
There is a possibility for special prizes for most creative/funniest work (wich may not be the best in terms of drawing quality but may present a very good idea nevertheless). And for the smallest fans and drawers we have special-category called the 'Kiddy-Special prize' for children under 12 years.
By that rules everyone has the chance to win a prize, unheared of the drawing skills.
Only unpublished work!
The picture mustn't have been published before and must not be stolen. Traced pictures are not really welcome as well! We reserve the right to disqualify any suspicious images.
Youth protection:
Please keep your work free from pornographic images, exzessive violence and other stuff which may not be suitable for underage visitors at AniNite. Also we can not accept images which contain content contrary to the Austrian law!